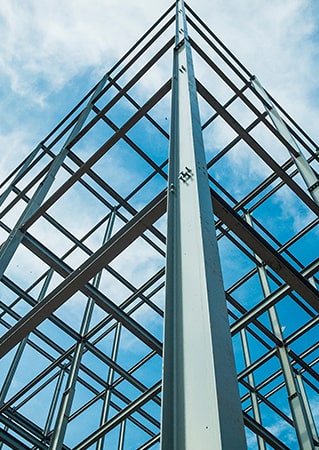 STEEL BUILDINGS- SMART HOUSING SOLUTION
Get the innovative steel building solutions on a single platform!
With a unique recognition for steel buildings, SIDPL is a growing construction company that offers customized solutions to its clients. Through the application of state of the art technology, we ensure faster steel constructions irrespective of the location.
We have made steel building construction possible even in disaster-prone areas.
One of the best options for steel structures, SIDPL innovative, customized, long-lasting, lightweight and eco-friendly construction offers a new way to live life.
Why SIDPL for Pre-engineered Steel Buildings?
Proven excellence in steel frame construction, SIDPL always stands out from its competitors. Whether it is quality steel building construction or cost-effective metal construction, SIDPL is the right platform for all.
At SIDPL, we strongly encourage the best steel for construction to bring your dream structure into existence.
Apart from this, here are some reasons that make us unique as a steel building construction company:
Quality Steel Frame Building
At SIDPL, we understand the importance of quality steel building construction. Further, it encourages us to use the best steel for construction and comply with all the quality standards for steel construction.
Allow Pre-engineered Steel Buildings
By offering pre-engineered steel frame structures, we contribute to easy construction. The pre-Engineered steel structures made assembling easier. Also, it saves time at the construction site.
Long-lasting Steel Buildings
Steel is an excellent construction material that offers a long-lasting finish to a building. It offers a warranty of 30 to 50 years on the property. This we can not expect from other materials.
Flexible Steel Framing
We offer steel buildings constructions flexible enough to adapt to any requirement. Our provided steel structures transform as per the requirement.
Inevitable Experience
Through our years of experience, we are in a position to serve you with our excellence. We aim to make our clients a part of our best steel buildings journey.
Customized Steel Buildings Design
At SIDPL, our team continuously searches for cost-effective steel structures design for our clients. We have a bucket of designs, which perfectly fits the steel construction needed even in remote areas.
Real-Time Assistance
We understand how hard it is to trust a random construction service provider. A reliable partner always offers real-time support for steel frame construction. At SIDPL, our determined team assists you with great zeal from beginning to end.
Strong Steel Buildings
Our steel frame buildings use the best quality steel that makes them strong enough to resist all weather conditions. The use of steel brings into existence powerful steel building homes.
Value for Money
A steel frame structure at a reasonable price, what could be better than this? At SIDPL, we offer you the best steel frame construction on your budget.
Let us Know Your Steel Building Requirements!
We offer our clients customized steel buildings solutions. No matter what type of steel frame structure you need, we have plenty of options for you.
SIDPL dedicated team has experience in the successful execution of steel construction. Right from metal buildings construction, warehouses, aircraft hangars, commercial buildings to housing properties, we have covered everything.
You select the type of building you want, discuss your plan with our executive and leave the rest to us.
Advantages of Steel Buildings
In a few years, steel frame construction has set its legs in the industry. It makes it attract the attention of more and more constructors every day.
Keeping this in mind, here we have listed some common advantages of steel buildings below:
Flexibility in Designs
Strong
Long-Lasting
Light Weight
Contribute to faster steel construction
Adaptability
Easy to install
Malleable
Protect against fire, pest and microorganisms
Effortlessly take various shapes and sizes.
Suitable for all weather conditions
Cost-effective solution
Rust and Moisture-free
Encourage Eco-Friendly way of life
Energy efficient
Low Waste Management
Enhanced steel construction quality
Offer instant steel frame structures.
Reliable
The best strength to weight ratio.
Disadvantages of Steel Building Construction
Pre Engineered steel buildings left space for buckling. The steel structures use many fasteners that may lose with time.
It includes the high cost of transportation from the steel plant to the construction site. Before it gets turned into a pre-engineered steel building it requires a lot of effort.
Although steel frames are rust-free before they require investment in expensive paints. It is paint that secures the steel from rust, moisture and other climatic conditions.
Steel can indeed take any shape and size easily but once steel structure is ready it can not be changed easily. To get a perfect structure every section must fit correctly. It is not an easy task to fit them again.
Steel buildings require thermal and sound insulation. It can resist fire but only with a protective zinc coating. Steel can lose strength when coming in contact with fire so protection is ever needed.
We have understood all the advantages and disadvantages of steel buildings. It will help you decide how to use steel for construction in the best way.
Frequently Asked Questions
What are the Applications of Steel Frames?
There is a huge application of steel frames and some of them are following:
Residential steel buildings
Commercial steel buildings
Storehouse
Aeroplane hangars
Emergency health centres
Metro station
Instant structures
Flyover
Stadiums
Classrooms and much more.
These steel structures use beams and columns to get ready.
How long do steel buildings last?
Steel buildings offer more safety against rust and decay. It takes effort to protect wood and concrete against pests, termites and rust issues. So we can say that none of the construction materials can beat steel structures in longevity. Once steel frame construction finishes, it lasts for 50 to 100 years.
How much time does it take to build a steel building?
The introduction of steel frame construction has fastened up the construction process.
For small steel structures-: 3 to 4 people can build it in 4 to 5 days(approx).
For taller steel frame structures-: It can take some more people and days around 6 to 7(approx).
Is it safe to use steel buildings?
As a reliable construction material, steel offers the utmost security. Not only does it provide endurance against fire, but also natural strength to the building. People always look for those metal buildings which have a good reputation for following:
Strength
Reliability
Fire resistance
Natural calamities
Termites
Moisture
Are steel frame buildings strong?
Steel buildings are as strong as they can resist earthquakes, cyclones, and other natural disasters. Even in highly vulnerable areas, steel building construction is possible.
Are steel buildings cheap or expensive?
Steel is a more expensive material than wood, but the steel building making process changes the final cost.
Major work of steel structure finishes on the workshop that ultimately reduces the burden on the construction site.
Apart from this, it reduces labour, insurance, and maintenance cost. So, steel buildings are a cheaper option than wood buildings.
What is the concern with steel-framed houses?
Thermal insulation
Yes, thermal insulation is a concern for a steel frame building. It lacks thermal and sound insulation because steel is a good conductor of heat compared to wood.
Thermal bridging resists insulation to a great extent. It further increases the cost involved in making it energy efficient.