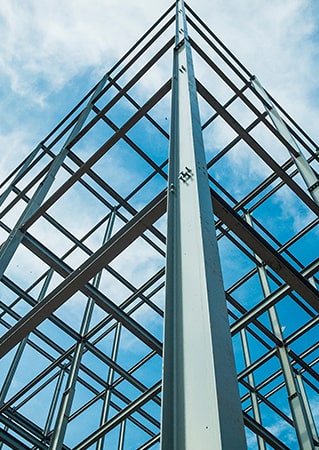 GO GREEN WITH LIGHT GAUGE STEEL FRAMING
CREATE YOUR DREAM STRUCTURE!
Renowned as a highly growing industry, steel is the backbone of many strongly structured buildings. Earlier recognized as uneconomical, the steel industry has made transformations in its ways of working. Yes, you heard it right! Steel is no more uneconomical now.
Technology has shown its significance in the steel industry by introducing light gauge steel frames. The light gauge steel structures are giving a tough competition to wood and concrete made buildings.
SIDPL is a leading Light gauge steel framing company that offers innovative solutions in compliance with quality standards. At SIDPL, we dream of a completely transformed world and give its reality by producing world-class light gauge steel framing structures.
Studies revealed that the introduction of light gauge steel made it an economical option for the steel and construction industry. Also, it is the best replacement for scarce resources like wood, sand and clay etc. Manufacturers produce it through the cold-formed process, and countries like the USA, New Zealand, Japan, Europe, and Australia accept it.
SIDPL is a pioneering light gauge steel supplier, proving its expertise in offering solutions that perfectly fit the needs of the commercial and housing sector.
Sram Developers India Pvt Ltd. provides you with the best architects to help you decide the best design and infrastructure. We have shown our excellence at every step.
Light Gauge Steel Framing Structure- International Standards
AISI (American Iron and Steel Institute) Standard-: A North American standard applied to a cold-formed framing structure.
American Institute of Steel Construction (AISC)-: It is a not-for-profit institution and administration. It came into existence in 1921 to improve the steel and construction sector.
Metal Building Manufacturers Association(MBMA)-: Established in 1956, this standard deals to improve the design and construction of steel structures in low storey and non-housing buildings.
Light Gauge Steel Structure- Indian Codes and Standard
IS 801:1975: standard for light gauge steel frame structure and design for general buildings.
IS 811 (1987): standard for cold-processed-formed light gauge steel structure.
IS 800 (2007): standard for wide steel construction.
Benefits of Light Gauge Steel Framing
Advanced Construction Ability
One can produce load-bearing and non-load-bearing structures at the workplace like a factory. It reduces the workload at the actual place of construction. Ultimately it offers excellent constructability and less wastage.
Long-lasting Strength
Highly recognized for its lightweight, Light gauge steel provides a long-lasting strength to buildings. It fulfils the foremost need of demanding construction materials.
Lighter in Weight
As its name suggests, a light gauge steel frame benefits constructability through low weight. Lightweight makes it easy to manage. Also, it does not require a large foundation.
Highly Flexible Design
Its high versatile quality makes it easy to take any shape. Apart from this, the layer of different materials protects it.
Faster Construction Ability
As light gauge steel structure comes in a ready to use state ultimately, it fastens the construction process. Also, due to its lightweight, transportation becomes easy.
Easy to Reform
Light gauge steel structures are easily reformable at any point in future. Non-structural members can be changed or replaced easily.
Fire Resistance
Light gauge steel is known for its strength and fire resistance quality. Usually, it applies to develop structural and non-structural members because of its property to protect from fire, termites and pests. We get all these qualities at an economical cost.
Best Build Quality
Light gauge steel made buildings last for a long time and demand low maintenance costs. Also, it does not decay, contract and change shape with time.
Recyclable Property
It does not matter what type of steel you use; all are recyclable. So it saves the cost involved in buying fresh steel.
Light Gauge Steel Frame- Components
Wall System-: it includes a load-bearing wall that comes perpendicular to joists, non -load-bearing walls, lining and divider.
Flooring System-: It includes Joists attached to C sections whose sizes rely on loading criterion.
Roof System-: It is a light gauge steel system developed for metal sheets. It is a great option that fits all roof design types.
Protective Coating on Light Gauge Steel Frame-: Light gauge steel frame structures come with a coating of Zinc. The coating protects them against rust, fire or other external issues. A layer of the coating depends on the climatic condition around it. For example, In wet regions, light gauge steel requires more security.
Light Gauge Steel Frame Members Shaping-: C shape is best for studs, rafters and joists. Further, they are sent to the factory to create appropriate holes. This process saves time at the construction site and makes studs and joints ready to use.
Add-ons-: It includes additional elements like different metal angles sheets, plates, and others to support in smooth light gauge steel building.
Tiding tools-: light gauge steel frame comes with self-drilling or self-tapping screws that create holes themselves. However, manufacturers use welding to attach a light gauge steel frame that offers a strong link.
Frequently Asked Questions
What is light gauge steel framing?
Light-gauge steel framing is a technique that uses cold-formed steel to build a structure. Manufacturers use it in roofing, flooring, and structuring load or non-load bearing walls.
How robust is light gauge framing steel?
Studies prove that light gauge steel is more robust than hot-formed steel. Cold-formed steel is lighter in weight and demands fewer materials and efforts.
Is light gauge steel framing cheaper than wood?
Producing steel may cost cheaper than wood, but still, steel framing costs more than wood framing. Light gauge steel framing also includes labour cost that changes the cost structure in the end.
Can we consider light gauge steel framing good?
Light gauge steel provides longevity to buildings and demands less maintenance cost. Also, it does not decay, contract and deform with time.
What does it mean by light gauge steel joists?
Light gauge steel framing is a technique that uses cold-formed steel to support the structure of a building. Also, separate studs, joists, floor members use light gauge steel.
What is the strongest and long-lasting material for construction?
Without a doubt, steel is the strongest and long-lasting construction material. In construction, it offers a stronger foundation than wood and other construction materials. Light gauge steel frame is an example of durable steel.
What is a concern that remains with light gauge steel made buildings?
Light gauge steel frame causes more noise than other materials. Also, it may lose strength when coming in contact with fire. So appropriate fire protection is a must.
What are light gauge steel sections?
Popular as cold-formed steel sections, light gauge steel sections are consist of cold-formed sheets. All the sheets remain equal in thickness that falls from 1 mm and 8 mm. Light gauge steel sections are in trend to build pre-decided steel properties.