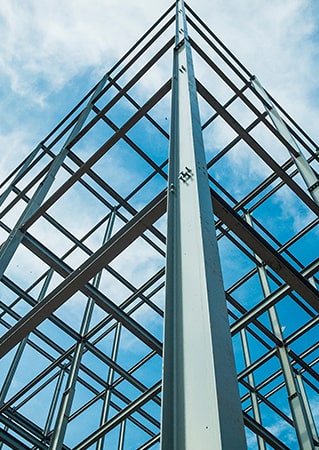 Light Gauge Steel Frame Buildings
Laying down the foundation for sustainability with light gauge steel frame buildings
What are Light Gauge Steel Frame Buildings?
Today innovation has transformed pictures of various industries in the world. One of those industries is the construction industry. It is due to advancements in construction technology.
Earlier, the construction industry paid attention to brick, wood and concrete based buildings but now shifted to light gauge steel frame buildings.
Do you know why steel has become the widely used construction material now? A few years back, steel was not a cost-efficient material for construction.
Most builders used to avoid steel and prefer using other materials like wood, brick, concrete, etc. In a short time, steel has changed its definition and returned with a cost-economical product known as light gauge steel.
Light gauge steel frame buildings are a cold processed steel form that makes them lightweight, durable, and more economical than before.
Light gauge steel frame buildings have attracted the attention of many large countries worldwide: America, Japan, Australia, Europe, New Zealand, etc.
The growth of LGSF structures will soon show its presence in the world. For saving natural resources such as wood, rock, sand, light gauge steel frame buildings are becoming the best alternative.
What Do You Mean by Light Gauge Steel Frame?
Light gauge steel framing is the latest approach for constructing powerful and long-lasting buildings.
The constructor uses this approach to design prefabricated structures for light gauge steel frame buildings.
These structures hold an excellent strength-to-weight ratio that makes them resistant to environmental conditions.
LGSF structure consists of various components and makes maximum use of any space.
It is cold processed steel that makes it lightweight and easily transportable.
Here are some components of Light gauge steel structures that are important to understand
Light Gauge Steel Frame Buildings- Components
Wall System
The Wall system consists of load-bearing walls and non-load-bearing walls.
Load-bearing walls bear the vertical pressure of the building and the horizontal of the wind.
Pressure can come at the same time or separately as per the situation. Load-bearing walls include both inside and outside walls.
On the other hand,
Non-Load bearing walls are those that do not bear pressure vertically or horizontally.
LGSF structures use different types of wall panels like
● Reinforced Concrete Panels
● Gypsum board
● Metal insulated Panels etc., according to the prevailing weather conditions.
Connectors
Structures for light gauge steel frame buildings come with ready-to-use features. It became possible only due to the connectors attached to them.
Those connectors include fasteners, nuts, bolts, and screws that do not need a pilot hole.
As these are ready-to-use structures, it allows them to connect as soon as possible.
Not only this but flooring is also made using ready to use anchors like
● Hammered based screws
● Expansion shell bolt
● Chemical anchors like sleeves, wedges or drop-in anchors.
Wall Openings
Constructing wall openings in light gauge steel frame buildings takes the same process as wood-made structures. The thing different here is Light gauge steel.
You may find some differences in the way of fixing different parts.
Wall Cladding
Wall cladding is a technique to place one layer over another to protect the lgfs structure internally and externally.
For external wall cladding, we use
● Polystyrene,
● Fiberglass mesh for waterproofing and
● Protective coating to resist all weather conditions
For internal wall cladding, we use
● Gypsum board to protect the inside surface.
Flooring Systems
Several options are available to design floor joists for light gauge steel structures. What floor joist design will suit your needs depends on loading requirements.
Lattice girder design is famous for offering the most reliable floor. It also provides excellent sound insulation for the top and bottom floors.
Roofing Systems
The roofing system for the light gauge steel frame building includes a roof design composed of steel sheets and tiles.
Light gauge steel roof structure comes with fasteners that can be attached to any wall system.
So, it goes well with all kinds of roof structures.
Building Foundation
Due to their lightweight, LGSF structures put less pressure on their foundation. It saves your time when it comes to building a foundation.
A simple foundation is enough to hold an lgfs structure. Light gauge steel frame buildings are perfect even for an uneven surface.
What Are the Advantages of LGSF Buildings?
● Improves Constructability-: Light gauge steel structures avoid wastage, save construction time and improve the quality of construction.
● Faster Construction-: Light gauge steel frame buildings do not take much time. The reason is that they use prefabricated structures for speedy construction.
Using light gauge steel framing a builder can save 20 to 30 percent of his time.
● Excellent Strength to Weight Ratio-: light gauge steel offers the best strength to weight ratio compared to other construction materials. Because of its lightweight, it does not need a deep foundation. It saves them time and the material involved in laying the foundation.
● Easy to Transfer-: Light gauge structures are easy to transfer from place to place.
● Reliable and Secure-: Light gauge steel offers a more reliable way to construct that provides security for the construction workers. It provides resistance against fire, termites, weather conditions, and natural calamities. LGSF structures can bear earthquake shocks easily.
What Are the Disadvantages of LGSF Structures?
● Light gauge steel can resist corrosion but only with a protective layer over it. So, it can be costly to paint it and make it rust-resistant.
● Light gauge steel can lose strength when it comes in contact with fire. So, it takes a cost to make it fireproof or heat resistant.
● Light gauge steel frame buildings require thermal and sound insulation.
● Light gauge steel structures rely on fasteners, self-drill screws etc., which may cause buckling issues with time. Buckling goes high with the expansion of structures.
Frequently Asked Questions
How well built is light gauge framing?
Light gauge steel is more powerful than hot processed steel because it has an excellent strength-to-weight ratio.
Apart from this, light gauge steel frame buildings take less quantity and time to build than other materials.
What does it mean by light gauge metal framing?
Light gauge steel framing refers to the prefabricated structures of cold processed steel.
Builders can use light steel framing for all the components of the buildings like
● Load-bearing walls,
● Non-load bearing walls,
● Roofing systems,
● Flooring systems etc.
It is a beneficial way to construct as it saves time and involves low waste management costs.
Is light gauge steel framing cheap or costly?
Most people believe that light gauge steel framing is a costly technique, but this is not true.
Light gauge steel construction has risen as the most economical way to construct. That means a light gauge steel manufacturer can cut down its expense involved in
● Improved designs
● Waste management
● Heavy foundations
What makes a light gauge steel structure different?
Light gauge steel structure is different from structural steel in various aspects like
● Application,
● Technique, and
● Designing.
Structural steel requires welding and bolting, but light gauge steel requires
● Fasteners,
● Self-drilling screws and
● Self-tapping screws
It is easy to create a structure with light gauge steel.
What are the applications of light gauge steel framing?
Light gauge steel framing has various applications like
● Residential buildings
● Commercial buildings
● Health care or emergency medical centers
● Turnkey solution for bathrooms
● Instant structure set up
● Gypsum Panel
● Instant Academic Institutions
● Instant lodging facility
● Hybrid construction
Light gauge steel structures work best even for the firemen. They can set up an emergency structure with LGSF structures.
What does it mean by heavy gauge steel?
Heavy gauge steel is a kind of steel that is broader than light gauge steel sheets.
Broad steel lasts for a long time compared to thin steel sheets.