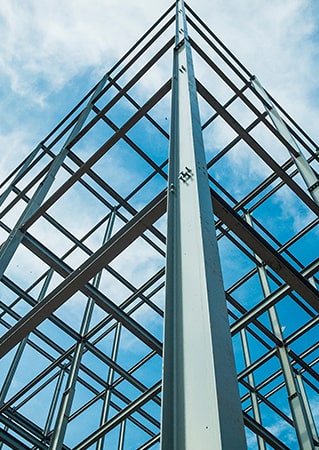 LIGHT GAUGE FRAMING SYSTEM(LGFS): A SUSTAINABLE WAY TO BUILD
LGFS stands for light gauge framing system. It is a well-known technology for modern construction that uses cold-formed steel to structure a building.
Rising as a perfect replacement for conventional construction methods, builders use it for wall systems(internal and external), roof systems, flooring systems and other purposes. Light gauge steel is a flexible material that makes it suitable for roof truss, floor joists, studs etc.
One can use it for all types of structures (primary and secondary structures both). LGFS structures can easily withhold strong earth tremors, cyclones, excessive snowfall, other natural calamities etc. In conventional ways, wood and concrete form the base of construction that do not provide safety against natural disasters.
Apart from this, light gauge steel may lose strength in case of fire, but it can withstand heat for a long time.
Features of LGFS Structures
Light gauge steel comes with a protective coating against rust.
LGFS structures do not change shape or size with time. So, it will not expand, contract, and reduce size in the future.
It offers high resistance against fire, termites, and changes in the environment.
High in strength and takes low maintenance.
It maintains high-quality standards.
Its low weight does not burden the foundation and offers security against tremors.
LGFS structures are easy to transport.
It decreases the construction time that was not possible in traditional constructions.
Light gauge steel is fully recyclable and not prone to harmful microorganisms.
The steel structures do not leave space for mistakes due to complete supervision.
LGFS offers flexibility to expand in future. Builders can add up a floor or shift structure to another place.
Endure eco-friendly aspects and last for a longer time.
It provides a vast spectrum of designs. So many options in one structure turn your dream of a home into a reality.
Support zero to low waste policy.
What is The Process of Making LGFS Structures?
The light gauge framing system first turns the metal chunk into a thin sheet. Using a cold-formed process, the manufacturer converts them into light gauge steel structures.
Further, these steel sheets take a protective coating for fire, rust, termites etc. Finally, the end product comes Light gauge steel. It is a material that is stronger than other materials. One can create all kinds of structures by piling steel frames together. Manufacturers can deliver thinner to broader steel sheets that last for long.
Once these sheets turn into a structure, the role of the construction site comes into action. The builder starts using those structures by placing them on a concrete base.
Now, the question is, what type of properties do LGFS structures suit the best?
Perfectly suits all weather conditions. It takes thermal insulation for cold weather.
Instant Medical Care Centers
Flexible and ready-to-use school rooms.
Eco-friendly and economic housing option.
Beautiful solutions for hospitality.
Make construction possible even in distant areas.
Sudden housing needs
Top 9 Reasons That Depicts LGFS the Future of Construction
LGFS comes with various outstanding features and benefits for construction. The light gauge framing system certainly has a bright future in the construction industry. Many good reasons depict that LGFS is the future of the construction industry.
Eco-friendly-: The use of traditional construction materials like wood and concrete harms the environment. But this is not the case with LGFS(Light gauge framing system). The use of steel structures supports sustainability. Apart from this, steel is recyclable and creates less waste.
At SIDPL, we make every effort to recycle as much steel as possible. Further, we ensure low waste management requirements.
Design Flexibility-: using LGFS, manufacturers can create multiples of designs. It offers builders an option to get tailor-made designs for their sites. The manufacturer can turn light gauge steel in any shape and size. Whether you need it for housing properties, business-oriented properties, single storey or multi-storey buildings, LGFS provides options for all.
Highly Secure Way of Construction-: In LGFS-structures based construction, builders need less supervision on the site. Working with light gauge steel structures offers a safe work environment. In a pandemic, it makes social distancing possible without hampering the work. So choose it for lesser supervision and secure construction.
Economical-: LGFS structures do not need much effort on the construction site. Reduced efforts ultimately lower down the cost of operating. The builder only needs to give the structures the final place. So it also reduces the cost of maintenance. In total, it is an economical option both for manufacturers and builders.
It Lasts for Long-: LGSF buildings do not shrink, swell and corrode with time. That makes it a highly durable product. Also, it provides high resistance for termites and microorganisms. Light gauge steel goes for galvanisation before rolling. That ensures the long-lasting life of steel frames. Allow Speedy Construction-: Most of the LGFS structure finishes in the factory ultimately reduce the pressure on the construction site. Light gauge steel structures speed up the construction process to a great extent. It was not possible in traditional ways.
Fire Resistance-: Light gauge steel may indeed lose strength when it comes in contact with fire. However, a protective coating helps it resist fire for a long time. Many big countries have adopted light gauge steel as a part of their construction process.
Allow Construction in Impossible locations-: With LGFS structures, construction has become possible even in remote locations. Light gauge steel framing has made construction possible even in places, not in good shape. It offers the same strength in remote areas.
Improved Project Management-: As construction takes a step by step execution of plans, LGFS structures add ease to this process. It allows effective project management with low maintenance and waste management cost. So it offers the builder flexibility to complete a task in a time frame and a cost-friendly manner.
Frequently Asked Questions on LGFS Structures
What do you mean by Light Gauge framing?
Light gauge framing is a way to produce cold-processed steel. LGFS structures speed up the construction process and make the building stronger. It does not attract termites and decay. For wood, it is not possible.
Are LGFS structures stronger or weaker than other materials?
With years of experience, companies have noticed LGFS structures are stronger than wood. With an excellent strength to weight ratio, it saves much energy. Light gauge steel requires less quantity to complete construction than wood and concrete.
What is the durability of LGFS structures?
From past experiences, we can notice that light gauge steel houses are highly durable. Other materials, like wood, and concrete are prone to decay, rust, but steel doesn't. It offers life between 50 to 100 years to buildings if availed from the right dealer.
What do you mean by a cold-formed steel frame?
Cold-formed steel is a product get by converting steel sheets into lighter ones. It includes a step by step process like punching, rolling and molding of steel. Cold-processed steel has various applications. One can use it for any structure.
Is light gauge steel more expensive than wood?
Steel studs are cost economical. That is why most manufacturers and builders prefer it. However, it is more expensive than wood but saves other costs: transportation handling and storage costs. They require less care than wood and other materials of construction.
What is a FRAMECAD machine?
FRAMECAD is the world-known technology to produce cold-formed steel. It offers the best collection of designs for LGFS structures. Along with the motor encoder, FRAMECAD uses a technical servo motor drive. It stamps the steel sheet and makes it 0.01mm thick.
What is the concern with steel-framed buildings?
Steel framed buildings are not a good option for saving energy. If energy-saving is a concern for you, steel is not a good option. Steel has a thermal bridging issue as it is a good conductor of heat. Excess heat decreases the effectiveness of wall insulation.
Do light gauge steel frames have chances of destruction in transportation? Do they require extra care?
No, LGFS structures offer a strength to weight ratio that makes them perfect for transportation. Steel is a strong material that does not need much handling. Further, it saves the cost involved in transportation handling.